Click on "full image" links to see images of gravestones
Entrance to the Oak Grove Cemetery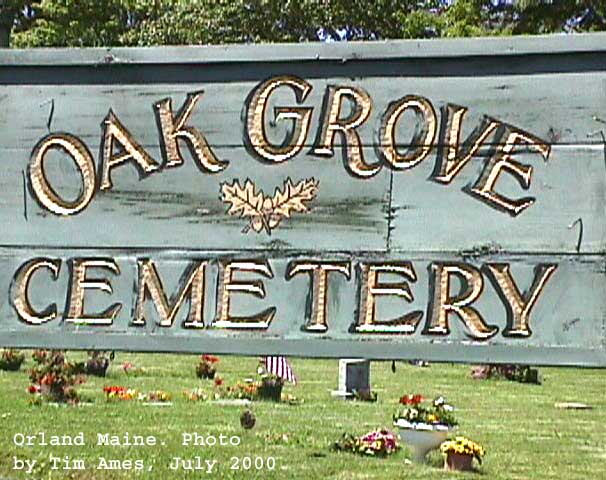 Descendants of Phineas Ames Buried in Oak Grove Cemetery
The line of descent from Phineas Ames is shown for completeness. Descendants that are buried in this cemetery are indicated by a "full image" link to a photograph of their grave after their name in the descendancy report.

Phineas4 Ames (Jeremiah3, Nathaniel2, Robert1) and Mary Cotton.

Phineas Ames, Jr., b. September 24, 1773; d. 1850; m. (1) Mary Rogers, November 26, 1795, Orrington, Maine; (m. (2) Margaret Hoxie, Abt. May 12, 1823, Bucksport, Maine.)

Rufus Ames, Capt., b. April 27, 1812 in Orrington, Maine; d. March 23, 1885; m. Mary Jane Runnels July 30, 1840 in Prospect, Maine.
, b. about 1850, Orland, Maine, d. 1891; m. Rose Sawyer 1877. (Conrad, Rose and the descendants below are all listed on the same stone.) Latitude / Longitude: 44, 34.5779N / 68, 44.7508W
Foster T. Ames The full image is 639K, b. 1878; d. 1953; m. Grace B. Ginn The full image is 639K. (Also buried in the same lot is Grace Ginn's brother, Austin L. Ginn The full image is 710K.)
Ethel Ames, b. 1881; d. 1907; m. Nelson Moore (not buried in the Ames lot?) 1901.
Florence Hazel Ames, b. January 1888; d. unknown.
John Frank Ames, b. January 1890; d. 1950. ("J. Frank Ames" is listed on this stone, but is buried in the Silver Lake Cemetery, Bucksport, Maine.)
Dennis R. Ames, b. about 1843; d: Oct. 11, 1900; m. Lillian Gray.
George E. Ames, b. Feb. 25, 1870; d. June 14, 1954; m. Ada L. Maker, b. 1868; d. 1922 The full image is 659K. Latitude / Longitude: 44, 34.6106N / 68, 44.7742W
Lizzie Ames, b. Nov. 25, 1890; d. (date unknown)

Alton R. Ames The full image is 1.1M, b. Jan. 28, 1909; d. Feb. 20, 1935; m. Florence A. Saunders, July 19, 1930. Latitude / Longitude: 44, 34.588N / 68, 44.7508W

Norwood Albert Ames The full image is 922K, b. Mar. 26, 1931; d. Jan. 2, 1955; m. Mar. 23, 1951 Ernestine Bowden The full image is 872K, b. Apr. 19, 1932; d. Aug. 28, 1986. Latitude / Longitude: 44, 34.5859N / 68, 44.7523W